CRITICAL OPERATIONAL SUCCESS
For proven solutions to complex pressure control issues, Cudd delivers critical well intervention services in a range of applications for even the most demanding environments. Our well control specialists offers quick, safe, reliable solutions in a variety of applications to serve your immediate operational needs.
Onshore/Offshore Hot Tap Services
For onshore and offshore hot tapping capabilities on time and within budget, Cudd offers decades of experience and access to resources for an unparalleled execution.

When conventional pressure relief fails, we can perform a hot tap procedure by drilling a hole in a pipe or tube to gain access to a wellbore if wellhead valves become inoperable.

For subsea hot tap services, our unique hydraulic procedure can be used in water depths up to 300 feet.
We are the pioneers of subsea hot tap and valve drilling operations, developing a first-of-its-kind subsea well intervention unit designed to reduce costs and minimize the environmental impact. Our remote-operated tool is rated to work at pressures up to 1,000 psi.


Capabilities
Drill thru coiled tubing, production tubing, drill pipe, drill collars, caning, bull plugs, blanking flanges, pipelines
Leak proof entry for pipeline access
Designed for onshore and offshore operations
10,000 psi working pressure, including H2S environments
Bit sizes range from ½'' to 1 ¼''
Saddle size range from 1 ½'' to 36''
Can be operated manually or pneumatically
Unit is small and compact and weighs approximately 200lb
Complete pressure balanced system to allow for long stroke capabilities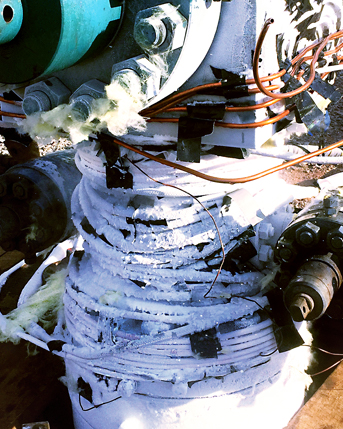 Freeze Applications
For more than 20 years, our cryogenic and dry ice freeze operations have provided access to critical equipment, onshore and offshore, so that crews can perform maintenance or repairs while the wellbore remains pressurized. Over the years, we have perfected the technique to increase the power of the temporary ice plug, creating a highly functional field tool so that your team keeps cool under pressure.

Staging our unique approach to freeze operations allows for the removal and replacement of faulty equipment with the peace of mind that the plug will hold for the length of time required to properly perform repairs on BOPS, valves, production trees, and other non-cylindrical items.

We also perform cryogenic freeze operations on tubulars of all sizes, successfully plugging through multiple casing and cement layers for a faster freeze that holds longer.


Gate Valve Drilling
Have a pressure control situation that requires a different point of entry? Gate valve drilling offers an effective approach by drilling out an inoperable gate or plug while it's in the closed position. This is performed while maintaining pressure downstream of the gate or valve.

Doing this allows for accurate monitoring of the pressure, a controlled release of the pressure, or provides the opportunity to pump in fluids to freeze or kill the well. We have the capabilities to drill a gate or TIW valve to its full inner diameter.

For longer reach operations, our pressure-compensated gate valve units can access drilling points several feet away from the unit. Available units deliver up to 15,000-psi pressure ratings in H2S service.


Capabilities
Gate valves, ball valves, TIW valves, casing hangers, plug valves, obstructions in the wellhead
Engineered mills custom built to mill every valve type and material efficiently
15,000 psi working pressure, including H2S environments
Designed for onshore and offshore operations
Mill sizes range from 1'' to 11''
Full hydraulic units
Compact and weighs approximately 750 lbs
Pressure balanced system allowing for long stroke capabilities up to 30 ft